Due to health and safety concerns regarding the possible spread of the Corona Virus the Greenbelt Community Center where we meet remains closed to meetings and events.
to MAMA's Diner, the official home of the Maryland Automotive Modelers' Association (MAMA), where we serve entrees of fun, friendship, and model cars.
MAMA's current leadership team is:
President: Tim Powers
Vice-President: Dave Toups
Treasurer: Matt Guilfoyle
Newsletter Editor: Tim Sickle

Notes from the MAMA President:
Happy New Year! I sure hope 2021 is a whole heck of a lot better than 2020 was.
At this point we are starting to be able to see that there is light at the end of the COVID-19 tunnel. A vaccine is starting to be distributed through a sensible hierarchical system that will get it to those at the greatest risk first and then out through tiers to the general public. The good thing about this system is that we get to watch and see if those who get it first experience any adverse reactions to the vaccine(s) over the rest of the year. Let's all hope that all goes well.
With the continuing uncertainty of the current Covid-19 pandemic situation and in the interest of everyone's safety, the joint team of Tri-State Scale Model Car Club / NNL East and Diversified Scalerz have announced that they have canceled their 2021 show calendar. They will not hold NNL East this April, nor the Diversified Scalerz Challenge in September this year. The Philly Area Car Modelers (PACM) club has also decided to postpone the Philly NNL until 2022.
Even though COVID-19 vaccines are starting to roll out, the vaccines realistically will only start getting to the general population in April, assuming all goes well. That's just one month before our own Mid-Atlantic NNL show is normally held. It's reasonable to expect that most folks will still be unprotected and many will still feel quite unsafe with attending large gatherings at that point. Because of these and all other considerations, MAMA has decided to postpone our Mid-Atlantic NNL show until May 14, 2022.
Considering the expected rate at which we will all be able to get vaccinations, I think the Diversified Scalerz made the right call on postponing their September show. September will likely be about the mid-way point for the general population getting COVID-19 vaccines and starting to gain some semblance of control over the COVID-19 pandemic. Unless of course the new, more contagious strain that has recently popped up changes everything between now and then (the first two cases of the new virus were identified here in Anne Arundel County just a couple days before I wrote this.)
Whenever we can once again meet in person and host real live shows, I want to see all of you there, so please be safe, be careful, and stay healthy! In the meantime, thank you to all who have been contributing photos to our pseudo-virtual meetings and all who have been keeping up with these pseudo-virtual meetings: you are keeping this club going.
Now, let's get to this month's models.
Scenes from our eleventh pseudo-virtual meeting in January:
Due to public health and safety concerns and Maryland State restrictions on gatherings aimed at preventing the potential spread of the Corona Virus, the Greenbelt Community Center where we meet has been closed to meetings since March, 2020. We have had really good results over the previous ten months with members and friends sending us photos and descriptions of the model cars they would have brought if we'd had physical meetings, or just any model cars or projects they wanted to share. This month we're doing it again.
Lyle Willits starts us off this month with a particularly appropriate tribute to Gary Sutherlin. While purchasing several items from Gary's estate, Lyle found an old, familiar resin trans kit from the Replicas & Miniatures Company of Maryland. He immediately remembered that Gary had been so impressed by a build-up of the kit at a meeting that he immediately bought one from Norman. Assuming that this was one of countless "future projects" that Gary had in mind, Lyle built this one for Gary, in his memory. He coupled a Revell 1932 Ford 5-Window Coupe Donor kit with the Roush engine from a Revell Foose 1956 F-100 kit. Photoetch items are from The Model Car Garage. Paint is Duplicolor metallic red that was cleared, color sanded, and polished. Rest in peace, Gary.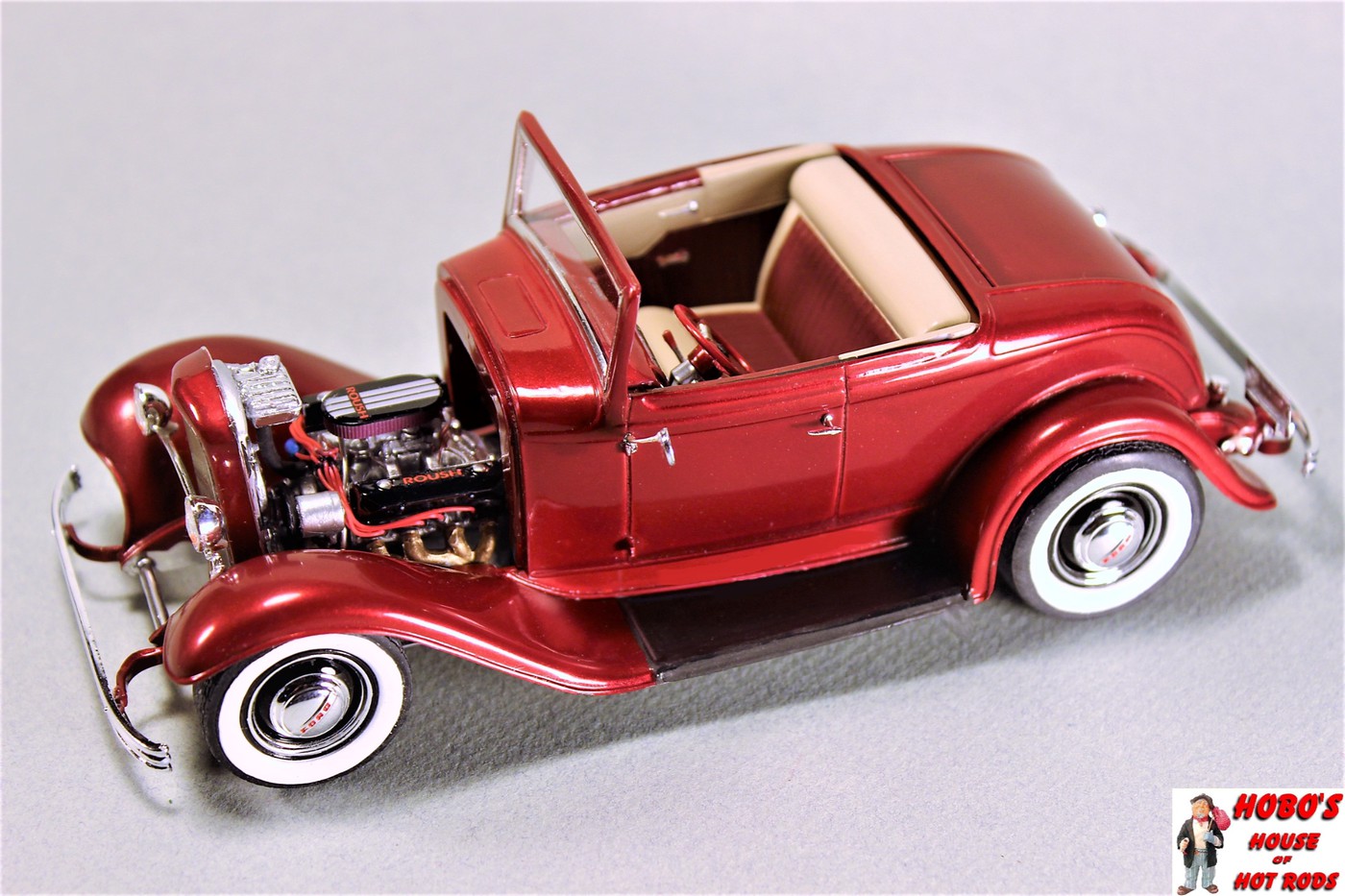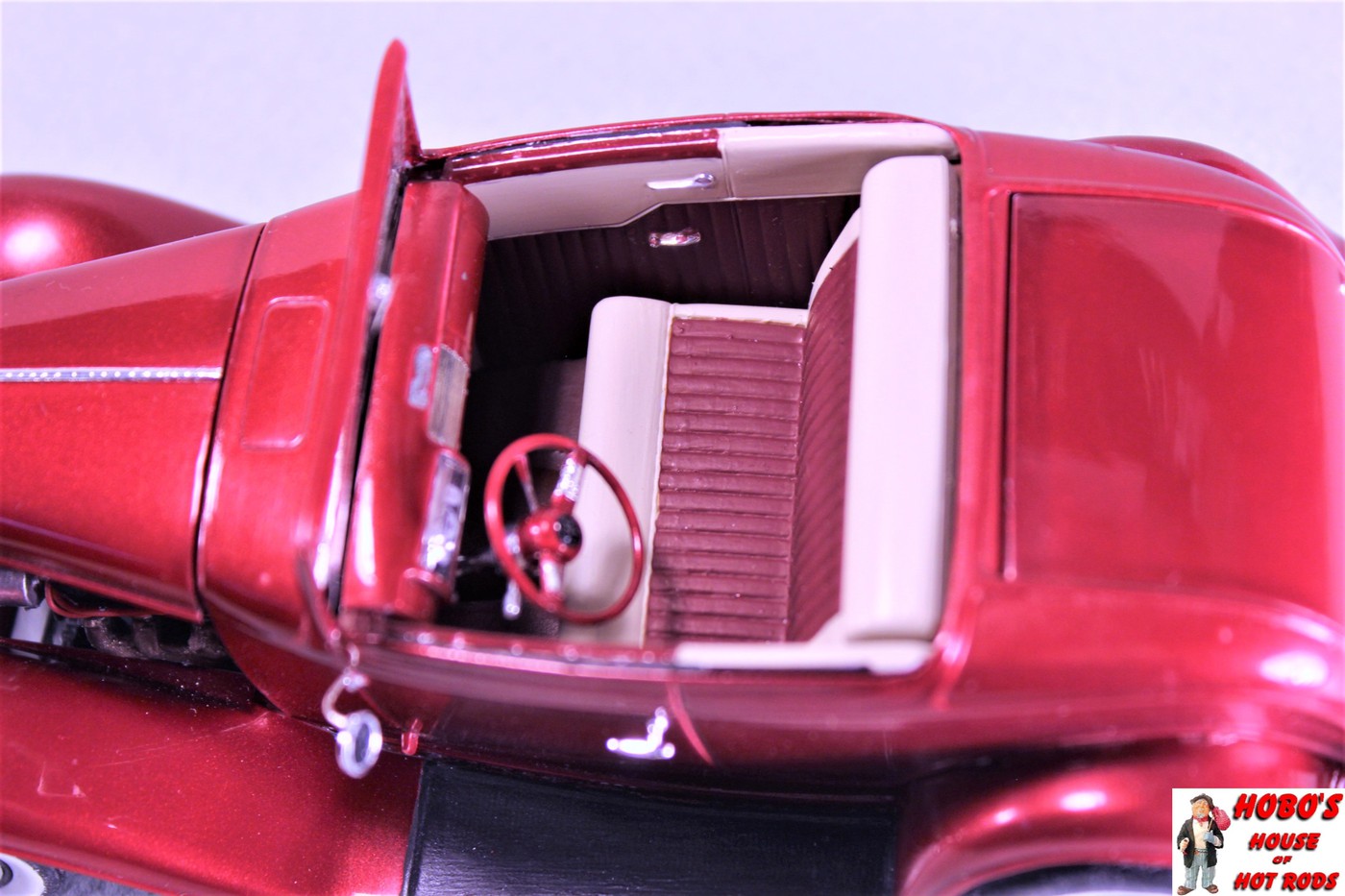 Paul Lee comes at us this month with a bevy of disparate automotive subjects. He's completed a Toyota 86, Series III 109 LWB Land Rover, 1977 Trans Am, Monkeemobile, and a 1966 Pontiac GTO. Well, maybe there is a bit of a Pontiac sub-theme here. Paul wishes a Happy New Year to all our members and family.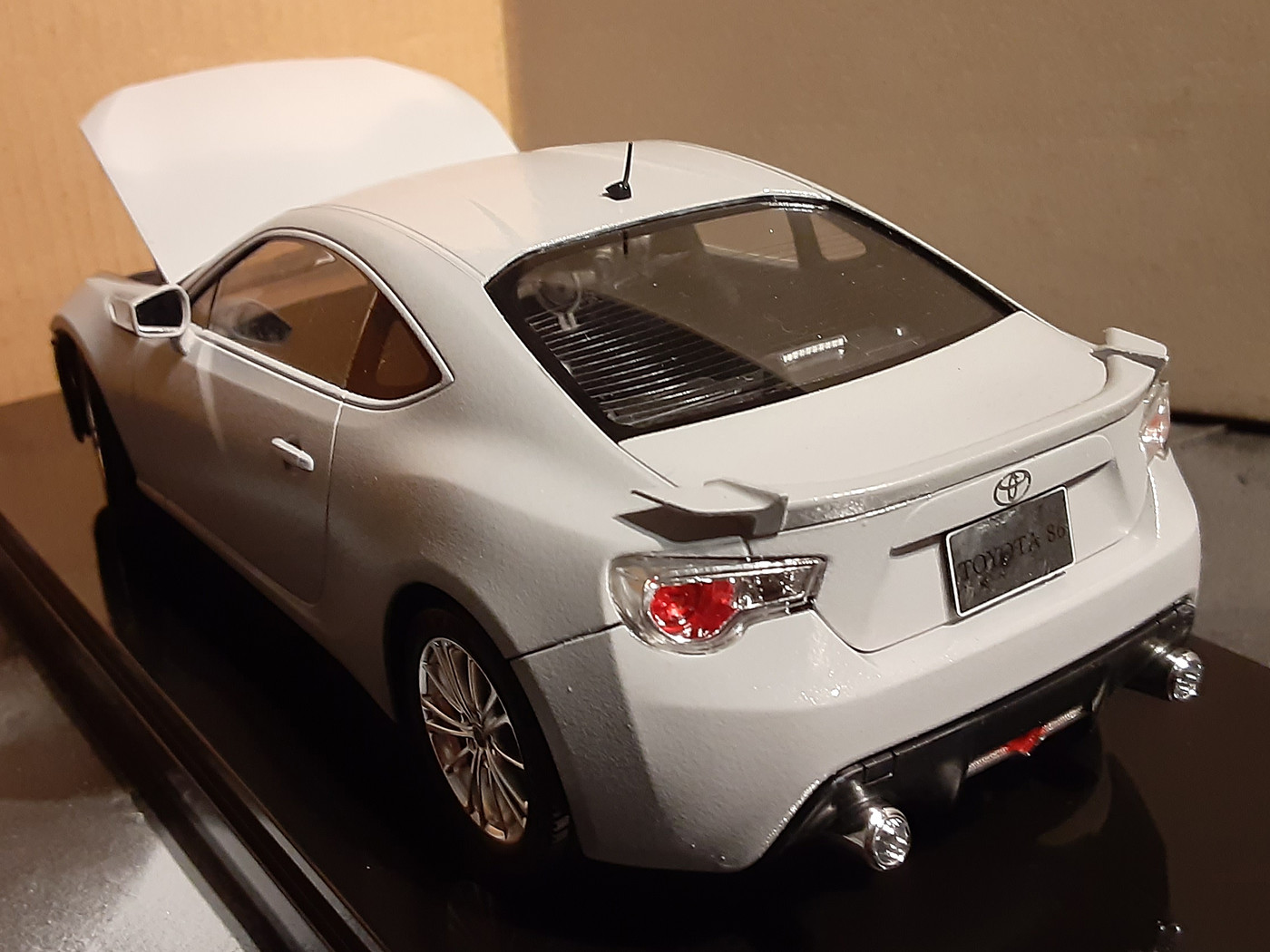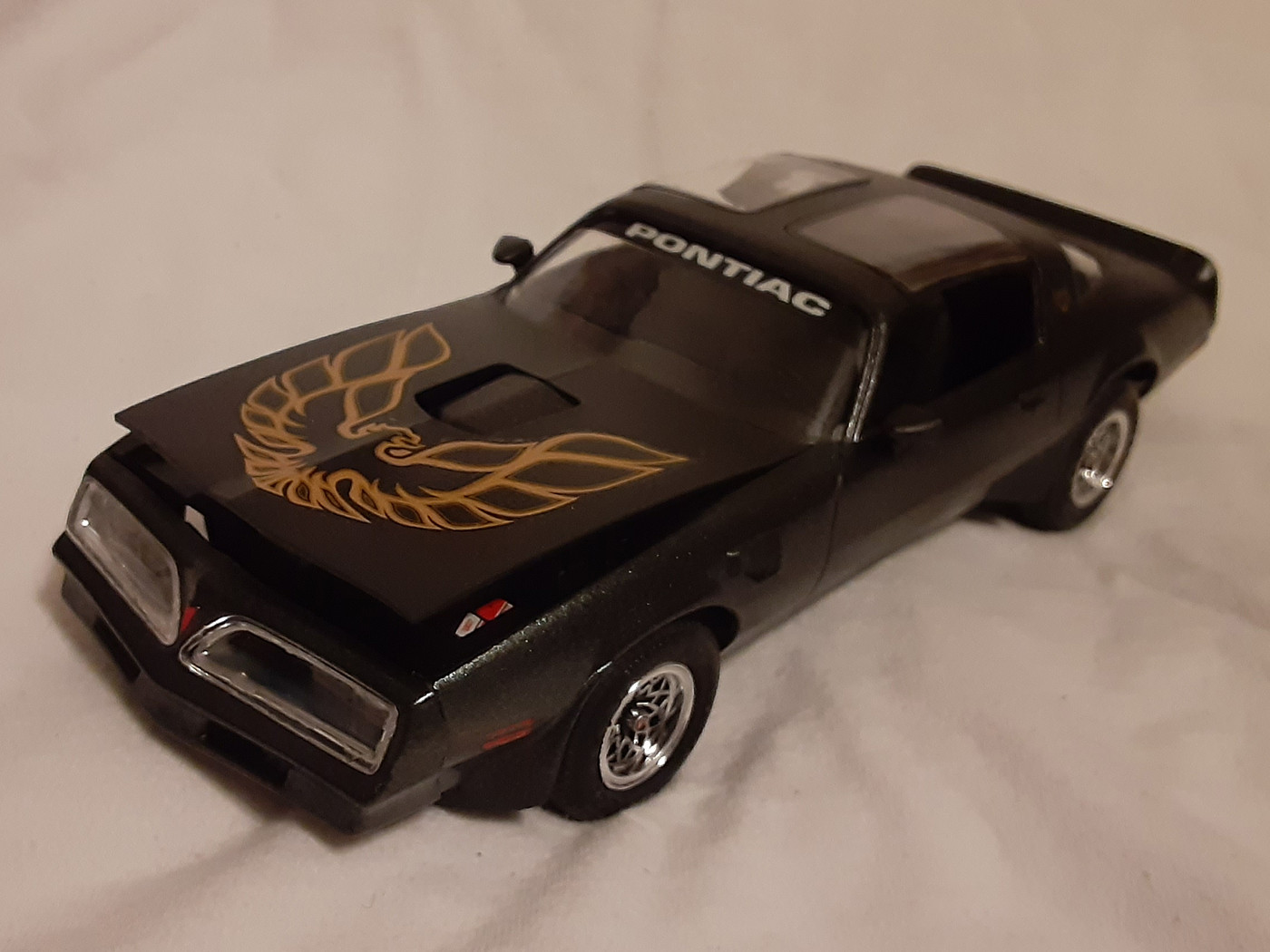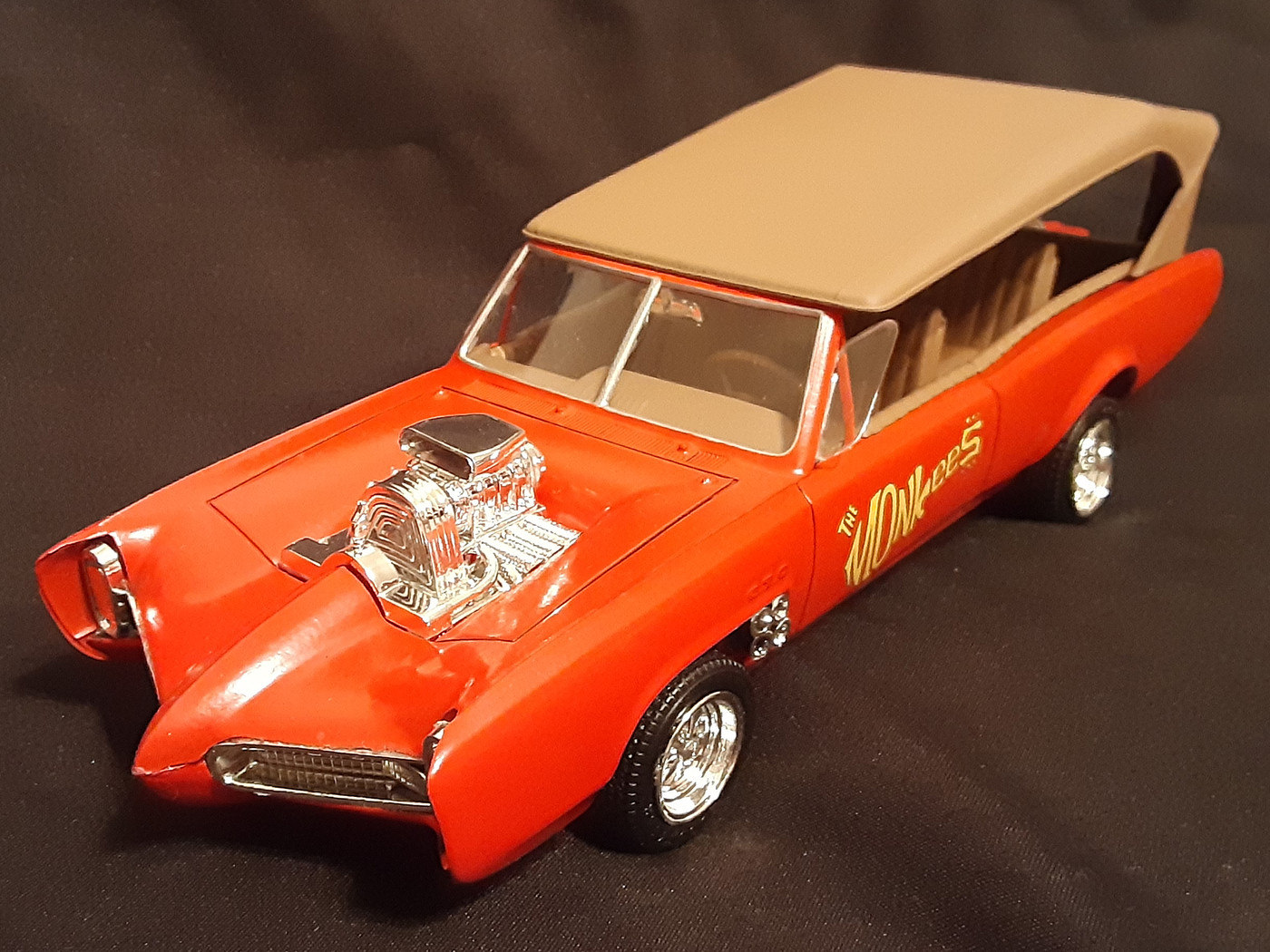 JC Reckner is still hard at work on his IMSA Porsche RSR 3.0. You might recall that this build started with nothing more than a resin body he got from Brad. JC has been adding parts from Fujimi kits, built models, and wrecked models, along with his super scratchbuilding skills. He just recently completed fabricating a replica of the slide valve intakes which boosted engine output by about 20HP for the RSR. You can see more about his progress on this build at: http://www.modelcarsmag.com/forums/topic/157614-imsa-porsche-rsr-30/.


JC has also just launched into yet another new project: a Lancia Beta Montecarlo - Short Tail Version starting with this old ESCI kit. Check out the progress at https://race-car-models.proboards.com/thread/2408/lancia-beta-montecarlo-short-tail?page=1&scrollTo=23079.

Rick Martin shared these photos of a stunning 1937 Chevy gasser that he built some years ago. The body is mounted on a modified 1940 Willys chassis. Power comes by way of a Chevy 409 c.i. W-head engine that's Hilborn injected, wired, and plumbed. Rick cut open and hinged the doors and trunk lid. The car is painted a dark green with several clear coats.

MAMA is honored to introduce Tyson Collins to the model car world. After a long time of wanting to try his hand at building model cars, the COVID-19 pandemic changed his work schedule in a way that gave him the time to start. He chose MAMA's pseudo-virtual meeting venue in which to share these photos of his first two model car builds, an AMT 1967 Shelby Mustang GT350 and an MPC 1967 Pontiac GTO that he built between June and October of 2020. Looks like he's off to a good start in his new hobby. Tyson says that he is looking forward to meeting with MAMA members in person once meeting/gathering restrictions are lifted. We're looking forward to meeting you, too Tyson.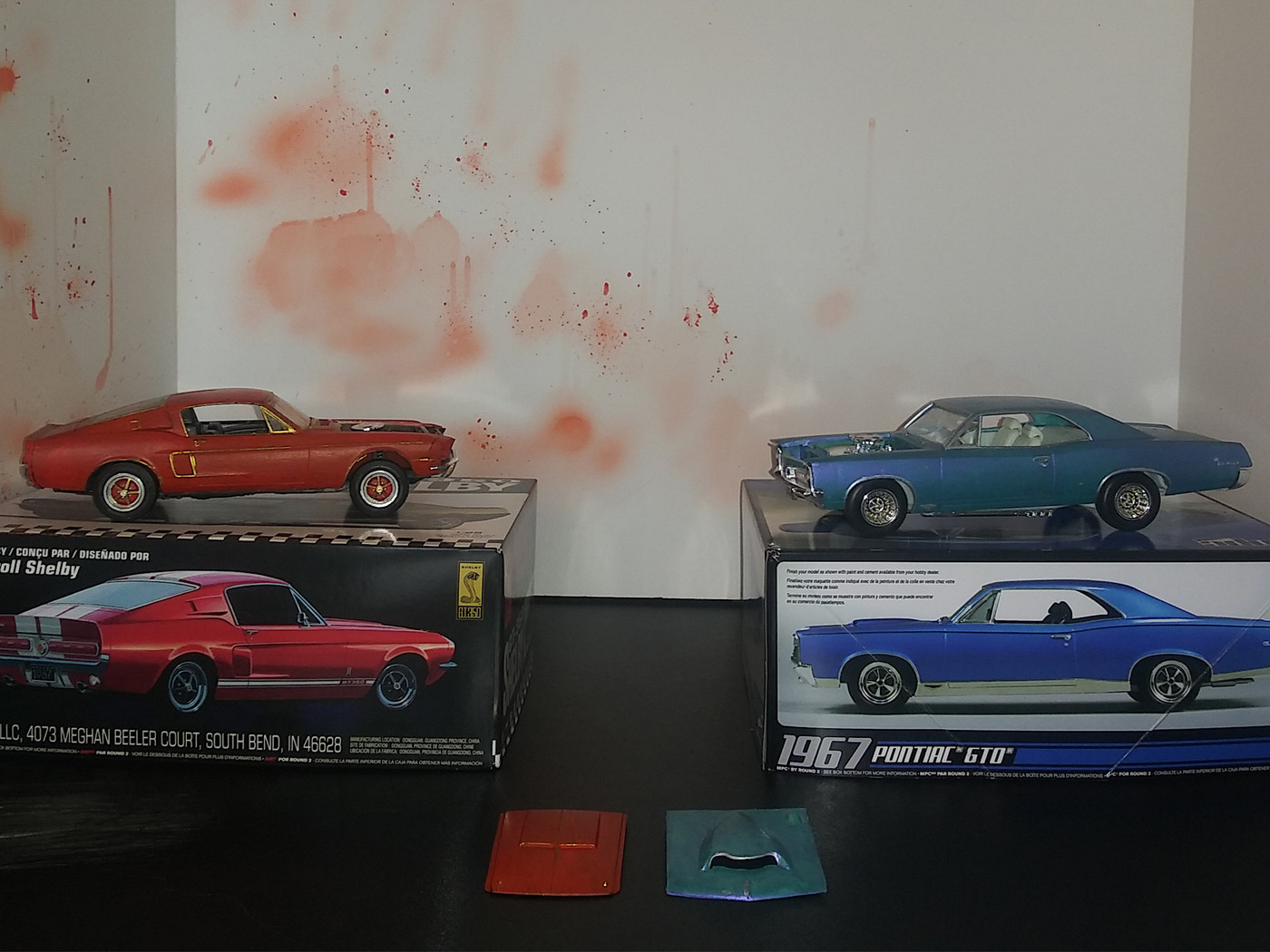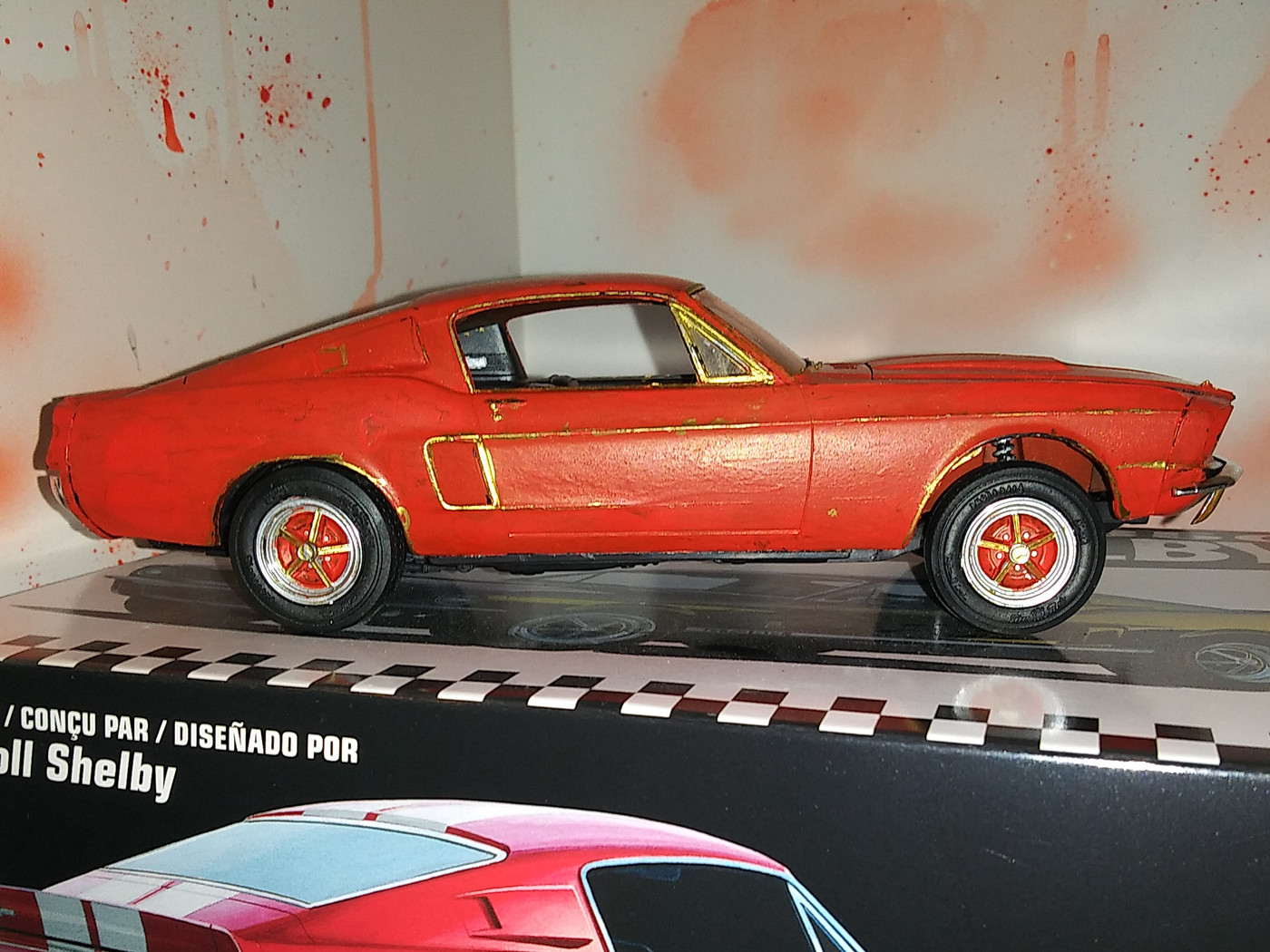 This month Steve Buter completed a Monogram SlingShot dragster to compliment the Long John dragster he built last month. This is another one that builders could supposedly "drag race" with a CO2 cartidge attached to the back. Hmmm... Unlike his re-issued Long John, which benefits from Modelhaus resin tires, Steve's SlingShot retains its original two-piece plastic tires. Steve says, "Line up the two halves, glue 'em up, & you still suffer the unsightly line down the center....a lot of filling and sanding was required here." Once the slicks passed Steve's muster, he put on a light wash of brown to increase the "real" tire look. As with his Long John, he preserved the SlingShot's blue molded color and added a clear coat of FUTURE wax. He says the decals are impressive for something that hails from 1959. These too were sealed with a coat of FUTURE. The SlingShot's driver figure suffers the same visible hollow areas on the arms and legs as the Long John's dirver, so Steve filled them up with Tamiya epoxy putty. While this build is totally out of the box, Steve did take the liberty of drilling out the header pipes for a little better realism. Steve commented, "Primitive, basic and toy-like? Oh, you betcha!! But, ya gotta love the way Monogram handled those six Stromberg carbs some 60 years ago!" Steve shows us both iconic cars squaring off on the strip. The flag gal is a YUFAN product. Her flag comes unmarked so the builder can put anything on there, and Steve hand painted a classic checkered flag.On yer mark, get set...AAAANNNNDDDD.........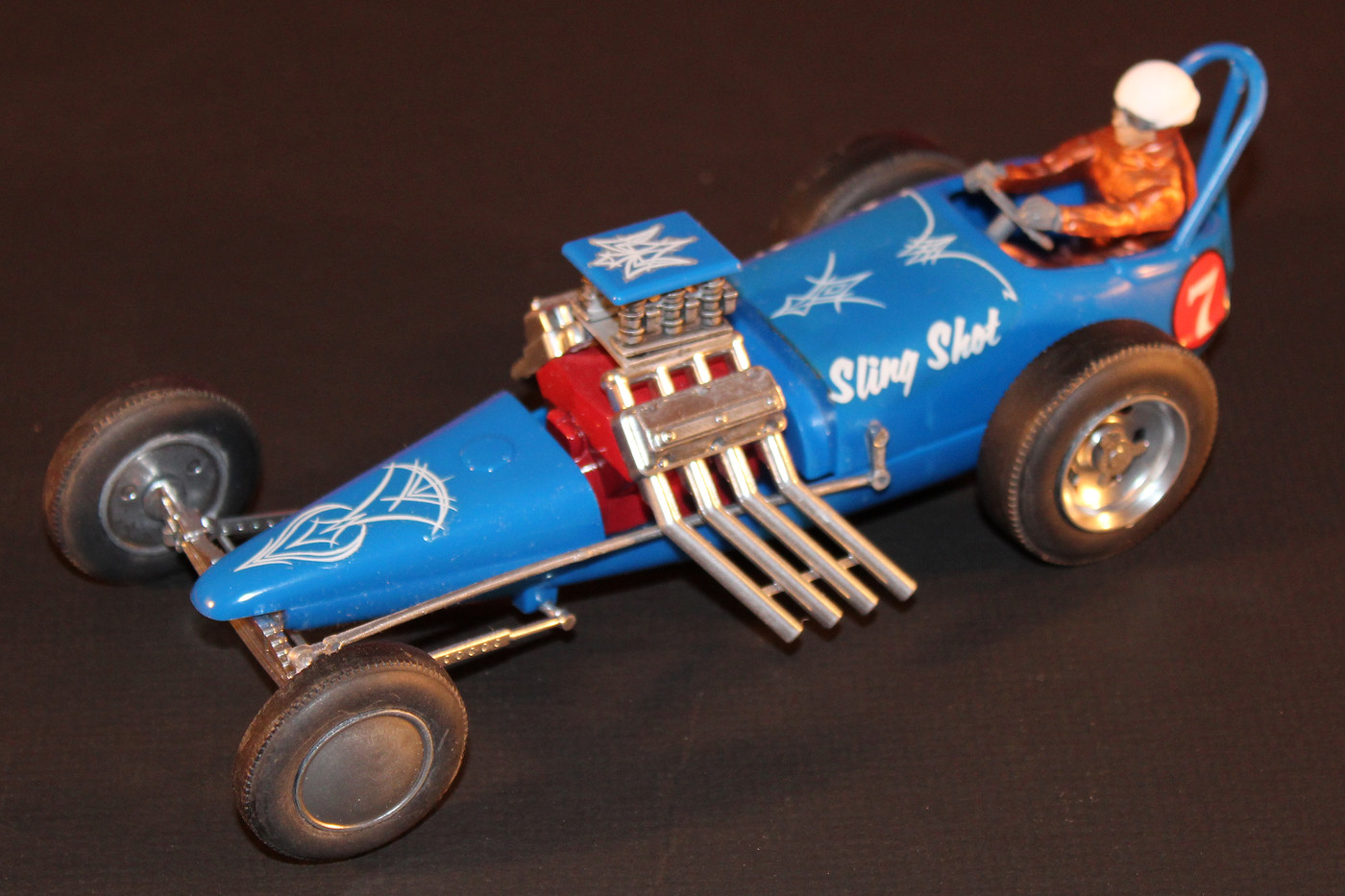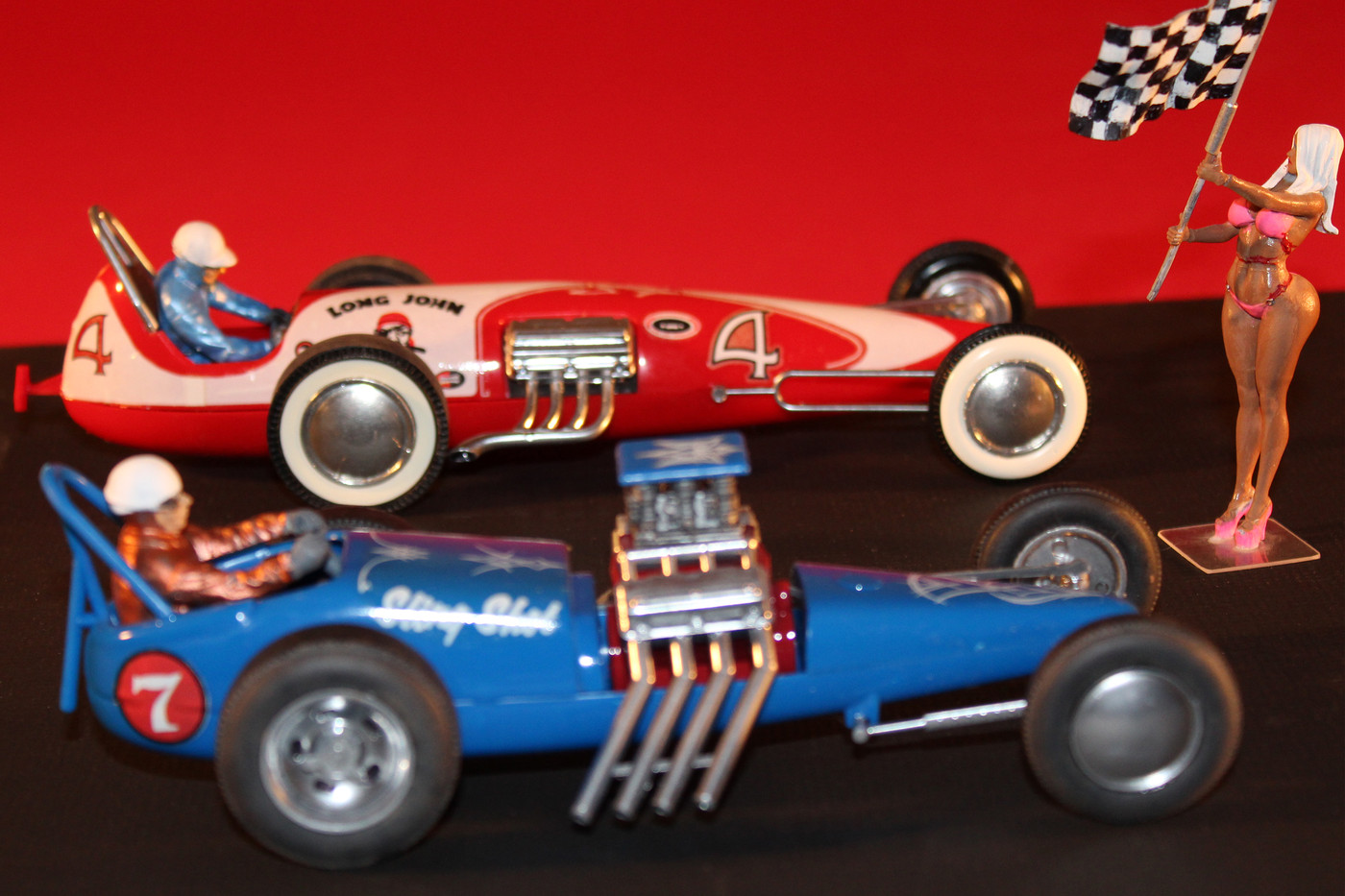 Steve also sent photos of a project he's worked on since mid-summer which he hopes will boost members' spirits for the day that we can resume "live" meetings. One feature of our monthly meetings that he always found interesting was the "V.P. Pick" where our Veep selects a model displayed on the table to be highlighted in an effort to both better inform other members about the kit and how it was built, and to help familiarize club members with others whom they might not yet know very well. The modeler is invited to stand up and give a brief talk about the model and answer a few questions from members. As cool as he thought it was, Steve observed that the VP Pick practice didn't include one thing: a scale person to present a trophy to each month's V.P Pick model car, and hang in for photo ops. So he made one from another YUFAN figure. When he had it assembled he took note of the upraised palms and wondered, "What could she be hefting, at about the same time she's lost her top?" He quickly found that a loving-cup style trophy from one of the earliest AMT Trophy Series kits was a perfect fit, then he scratchbuilt the top that lays by her feet. Steve wonders if the club could call her. "Ms. V.P. Pick?"

The latest build from Don Stone is a Polar Lights Richard Petty 1969 Torino Talladega. Don says these kits can be a chore, but build up into a decent model. He augmented the kit with wheels and tires from Plastic Performance Products, Tamiya paint, Bare Metal Foil, and Powerslide decals.

Mal Douglas has been busy crafting this Fiat Topolino Gasser. He says that at least three glue bombs went into this build, two from Rich Meany and one from "evil-pay." The Hemi motor is from an AMT Boss Nova kit. He's thinking of leaving the body in its natural plastic state. Be sure to check out that poseable steering he made. Mal also shared a message for the club, "Hope we get to meet together soon!"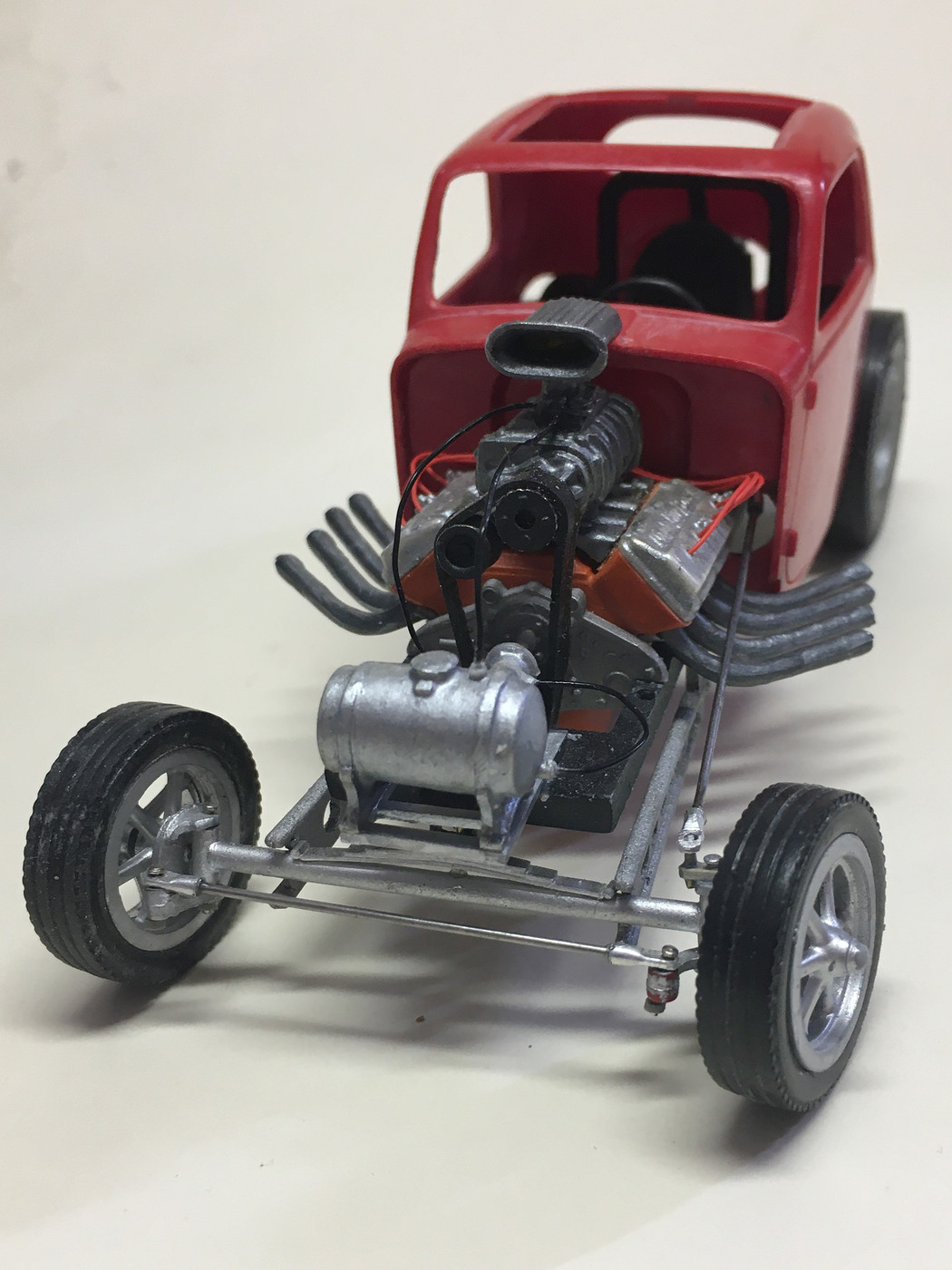 Now, let's start the new year with some cookies.